Our Work: Redesigning the Bible
Just1Word is a small Christian non-profit with a giant goal in mind: change the way teens and young adults see the bible.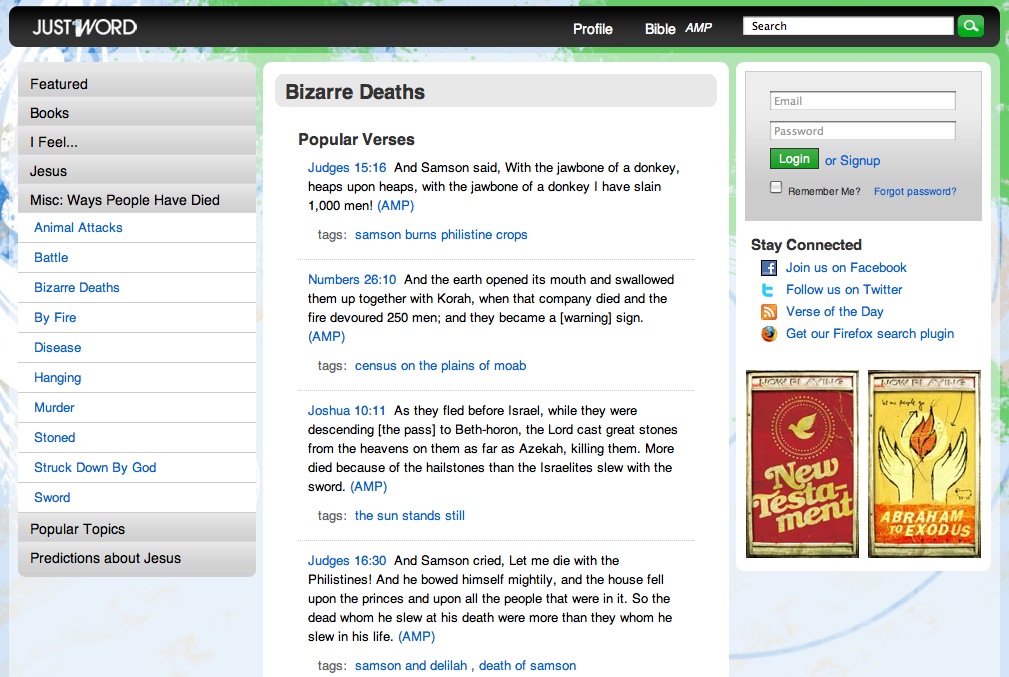 We were first contacted by Just1Word to provide some help with Ruby on Rails programming and server setup. A few weeks into the project the goals were changing and the future was looking a lot brighter.
Research shows that 14-25 year olds consume information constantly. They do it online and they do it with their friends. If you want to get their attention, you have to go where they are and passively get them involved.
We started by changing the information architecture of the Bible. We de-emphasized the reading aspect and brought forth the social. As a key differentiator from all other Bible sites, we grouped the information into thousands of new topics and stories. You'd be surprised how many strange and comical ways people died in the Bible.
They're also keeping up with people on Facebook and Twitter. On their first day after relaunching, they gained over 1,000 followers on Twitter. People are asking questions and they're getting great feedback. It's a precious dialogue of trust that you just can't buy in the offline world. They're being rewarded for it with referrals and repeat visits many times over.
Chris has also been search engine optimizing pages to make sure that people looking for Bible verses can find what they need quickly. As of last check, Google had indexed over 60,000 pages. When we're finished we'll be at nearly one million pages of unique content.
The next step is developing a Facebook application to get people involved and sharing the Bible between friends.
It's an ambitious goal, but they're off to a great start.